The Punchy Teos Nutri Pops IDEA: The idea of Teos Nutri Pops came alive after we decided to get an age old nutritious super food to you bundled up in great taste and feel.
The super food was Makhana (Foxnut) which has been available in certain parts of India and consumed in varied mixes and recipes.
Teos sprung out with the concept of making it commercially available with intent to make a positive difference to your lifestyle. Our snacks are prepared with constant effort to reduce nutrition loss of raw ingredients.

A binge worthy snack with the balance of tasteful flavors and quality graded nutritious makhana pops. Yes, we avoid to get them fried and thus toasted them for better nutrition value.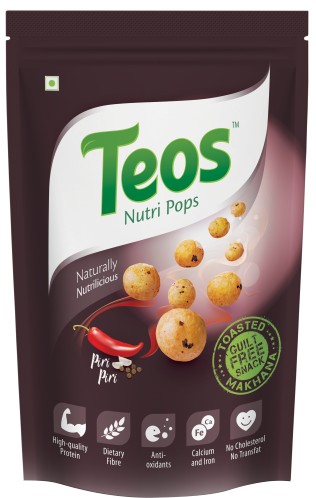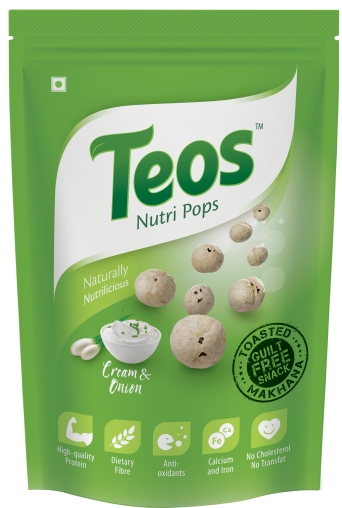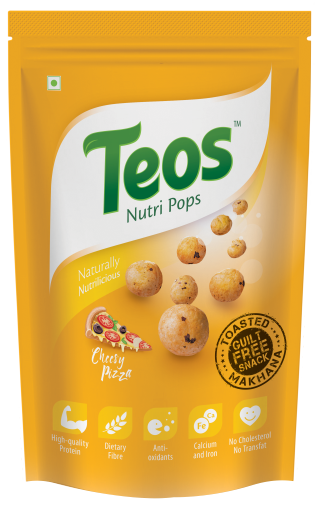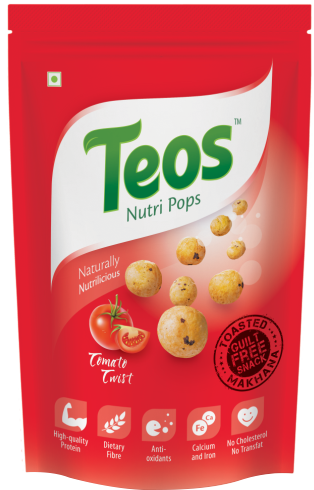 Keeps you filled thus aids in weight loss
Helps in controlling blood sugar levels
Improves cognitive function.

We @ Teos have been sincere students and studying the essential gifts of nature provided to mankind.
Amongst these were also the consumption and need for dry fruits in daily life. On further digging in we bumped to the fact that there's a whole lot new world beyond the usual common nuts.
Here we are now ensuring that you live life full of zest and enthusiasm each day with our range of vegetable nuts and seeds.

Yes, we avoid getting them fried and thus roasted them for preserving better nutrition value.


NOTE: Do read the benefits and nutrition value on the packs to blow your mind!
Flax Seeds – Patent fiber supply to keep your gut healthy and avoid constipation.
Rich in antioxidants supporting a strong immune system and reduce any inflammation.
Trail Mix – A mix of Pumpkin seeds, Watermelon seeds, Dried Cranberry, Almonds,
Dried Pineapple, Black salt. These pack a power punch for a healthy supply of protein,
fiber, zinc, magnesium, and Antioxidants.
Mix Seeds –A mix of Pumpkin seeds, Watermelon seeds, Flax seeds, Black sesame seeds,
White sesame seeds, Dill seeds, Black salt, Turmeric powder. They are known to help our system
avoid diseases and reduce inflammation.
Mix Seeds Mukhwas – A balanced mix of Fennel seeds, Dhana Dal, White Sesame seeds, Flax seeds,
Ajwain, Dill seeds, Black Salt, Turmeric. They ensure your digestion is apt and help you absorb the
nutrients from your meals satisfactorily and also the mix keeps bad breath at bay.
Keep watching this space for more wonder products from Teos
The reCAPTCHA verification period has expired. Please reload the page.